Mixed to the Max | Year End Bash 2017
Submitted by Administrator on Wed, 09/08/2017 - 22:34
SKU: Ticket for Year End Bash 2017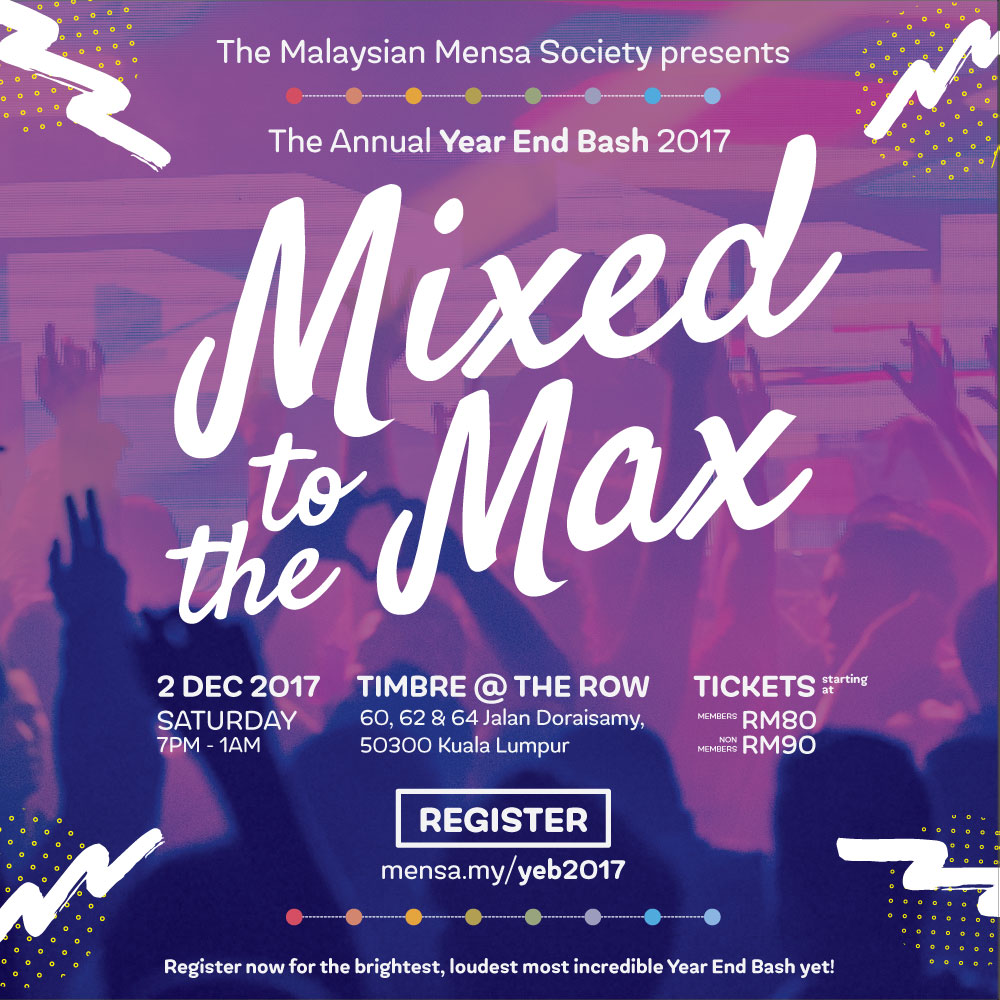 Date: December 2, 2017 (Saturday)
Time: 1900 - 0100 hrs
Venue: Timbre @ The Row, 60, 62 & 64 Jalan Doraisamy, 50300, Kuala Lumpur (map)


This year, the YEB 2017 is back, and is poised to be the BEST YEAR END BASH to date.
Under the theme of Mixed to the Max, YEB 2017 is designed to draw a much larger crowd so that true diversity may be achieved.
This will allow all Mensans to mingle within a more like-minded yet diversed crowd, encouraging new friendships.
Tickets shall be sold to a worldwide audience, as we expect attendance by overseas Mensans. 
To accommodate the demands of much larger crowd whilst striving to avoid wastage, a progressive pricing system is applied for YEB 2017 tickets.
Prices will start at RM80 and will increase as more tickets are sold.
Be sure to get your ticket early and secure your seat for the biggest party of the year!
Contact us at yeb@mensa.my for any inquiry.
Current Ticket Prices
RM 100 (Malaysian MENSA members)
RM 110 (International Member/non-member)
RM 90 (Malaysian MENSA Students/New Members)
Registration Form for Year End Bash 2017
List price: RM0.00
Price: RM0.00