Member Benefits
Submitted by Administrator on Wed, 01/12/2010 - 16:14
Mensa provides the opportunity for people with like minds to meet and interact.
Members don't necessarily have the same opinions but most likely are on the same wavelength. Members can most likely be assured of finding people who would be willing to discuss and argue intelligently with - whatever the topic may be.


A joke that has been told several times is - if say, 5 Mensans were to meet, there will be 6 opinions argued/advocated.

Besides all that, Mensans are not so different when it comes to having fun. Singing, dancing, joking, go-karting, cycling, bowling, ice-skating, disco, clubs/pubs, food-hunting, appreciating wine, travelling, playing music/jamming, scuba-diving, photography etc. Of course, that cannot be said for all Mensans. Some can be a little bit in their own world when it comes to social skills and interests. Then again, there are non-Mensans who are that way too


So what are the benefits of being a Malaysian Mensan?

To begin with, members of any national groups are also members of Mensa International. In countries without national groups, members opt to be direct members of Mensa International.

So Malaysian Mensans get the following:


Newsletters / Magazines

Triple-M, the Malaysian Mensa newsletter /magazine published 4 times a year.
The Roundtable, the Malaysian Mensa E-Newsletter published 6 times a year
International Journal, newsletter of Mensa International, included in Triple-M



Special Interest Groups (SIGs)

Members with specific interests can form Special Interest Groups to get other members with similar interests together. There are no limits as to the number of SIGs or what type they are - as long as they don't put Mensa in bad light or get Mensa into trouble.  

These are existing SIGs in Malaysian Mensa
| | |
| --- | --- |
| | |
New ones are formed regularly but some old ones did die out. On the International 
front, there are International SIGs or ISIG for short.



Local Groups (LGs)

Members living in the same town/city, district or area can set up a Local Group. This allows members within close proximity to interact be involved with localised activities. Currently, Penang is the only Local Group that is well established and have been around for a very long time. With help from the National Committee, members in other areas can set up their own Local Group as well.



S.I.G.H.T.

S.I.G.H.T. is short for Service of Information, Guidance and Hospitality to Travellers programme. It is available in all 60 countries and available to all Mensans worldwide. Mensan travellers can get in touch with SIGHT Coordinators from any of the countries worldwide.

With SIGHT, members can get advice from a resident of the country, get help arranging for accommodation, as well as arrange to meet other Mensans from the country. It is a facility to help Mensans have an enriching and pleasant travel with the possibility of being hosted by a local Mensan in their own home.

SIGHT is not an immigration agency, a job placement agency or a source of long-term (or permanent) accommodation.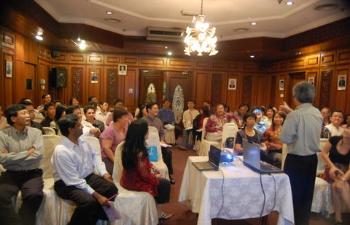 Events

Events and activities are the norm in Malaysian Mensa. Major events are held at least once or twice a year. Some event are held at the national level, some organised by SIGs, some at a local level and some just by interested individuals. Local or regional group committees may also have their own itinerary of activities.

Some of the events organised before included:
- Scrabble Challenge
- Motor Treasure Hunt
- Karaoke
- Bowling Competition
- Outdoor and Nature
- Seafood Outing
- Road trips
- casual meet-up welcoming visiting Mensan
- Dinner and Dance

Some are organised regularly/annually.